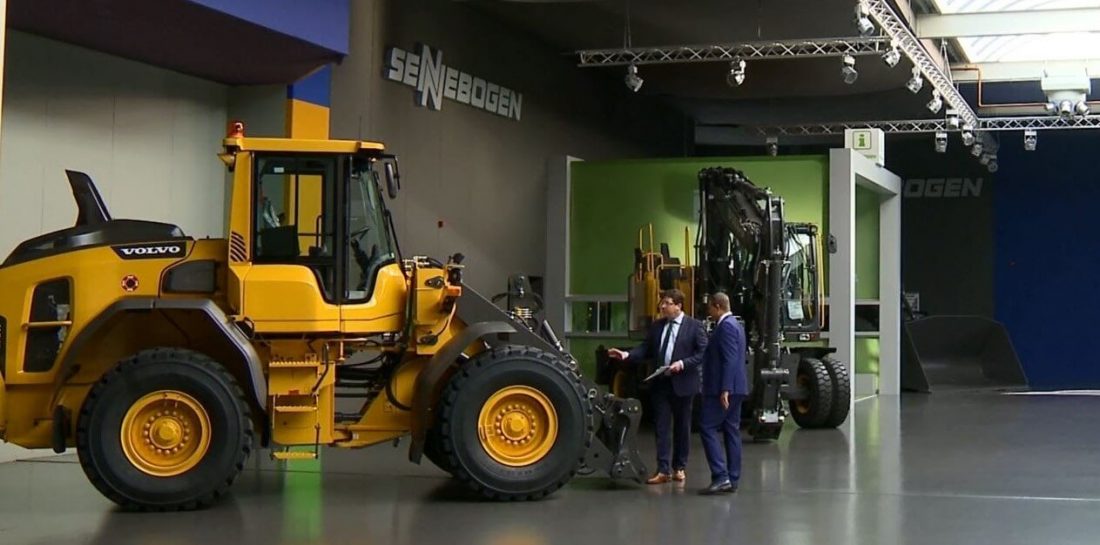 On 1 April 2017, Kuiken Groep ("Kuiken") will transfer the distribution rights for Sennebogen Crane Line products in the Benelux to dealers Van den Heuvel Cranes & Services B.V. ("Van den Heuvel") and Van Haut NV ("Van Haut"). Kuiken will continue to be the exclusive distributor for Sennebogen's Green Line products in the Benelux.
The transfer of the activities related to the Sennebogen Crane Line products (crawler cranes and telescopic cranes), will enable Kuiken to increase the focus in its services to customers. Kuiken will retain distribution rights for Sennebogen Green Line products (material handling and recycling equipment), which have for many years been an excellent strategic fit with the high-quality, powerful machines of Volvo Construction Equipment, for which Kuiken is also the exclusive distributor in the Benelux.
Dealers Van den Heuvel and Van Haut will take over the representation of the Sennebogen Crane Line products in the Netherlands and Belgium respectively. Their many years of experience and expertise in the sector will safeguard quality and service for customers.
Heino Westdijk, CEO of Kuiken Groep, says: "Sennebogen has carefully selected suitable parties to take over the distribution of Sennebogen Crane Line products, to safeguard continuity in the Benelux market. Together we will ensure that the transition goes smoothly, so customers will continue to receive the high-quality products and services they are accustomed to. Our increased focus will enable us to continue to optimise our services to our clients as a full-service distributor of the strong brands Sennebogen Green Line and Volvo Construction Equipment."
Van Haut CEO Dries Van Haut says: "We are very pleased that Sennebogen's Crane Line products are returning to us after almost a decade. The Crane Line product range is also an excellent fit with Van Haut's total range of products in Belgium."
Marc Timmerman, CEO of Van den Heuvel: "We welcome Sennebogen's Crane Line products to our product range. This move will enable us to provide added value to our customers in the Dutch market."
About Kuiken Groep
Kuiken Groep is a leading full-service distribution company, specialising in construction, material handling and recycling equipment in the Benelux. Kuiken Groep is the distributor of the strong A-brands Volvo Construction Equipment and Sennebogen. Kuiken Groep offers its customers one-stop shop concepts in the sale of new and used machines, as well as in rentals and service, maintenance, repair and the sale of spare parts. Kuiken Groep also provides advice for the most suitable financing and insurance for machines. Kuiken Groep constantly develops new forms of full service offerings to provide its customers with the highest possible levels of service.
About Van Haut NV
Van Haut has 30 years of experience as an importer of various construction machines. These include machines related to concrete and prefab construction, such as Schnell concrete reinforcing bar machines, Avermann prefab systems and Imer concrete mixing plants, as well civil engineering machines such as Sany diggers, SBH shoring equipment and Dawson arrest blocks. Sennebogen's cranes will create an excellent link between the two departments. Van Haut's 25 experienced employees provide technical and commercial support for these products from the company's offices in Kruibeke.
About Van den Heuvel Cranes & Services B.V.
Van den Heuvel is an importer of Junttan piling equipment for the Benelux and a dealer for Sennebogen Crane Line products in the Netherlands. In addition to new machines and related products, Van den Heuvel also sells used equipment and rents out Junttan products. Van den Heuvel also specialises in the design and manufacture of customised adjustments to products such as foundation, earth moving, materials handling and construction machines. Van den Heuvel is a company that comes up with innovative solutions to respond to changing market conditions and specific customer demands. Van den Heuvel differentiates itself thanks to its versatility and the high quality of its products and services. The company also maintains a constant focus on solutions and its customers, for every machine, every brand, from design to final product.